Up the road east of Knoxville, Tennessee about 30 miles is the charming little town of Rutledge, located in Grainger County, Tennessee and the home of the annual Grainger County Tomato Festival
This year is the 16th year they've held the event and it seems to get bigger and better each year. The Tomato Festival is not only one of the largest festivals in Tennessee, it's completely FREE including parking.
The 2007 attendance was estimated at over 25,000.
Tomatoes are Grainger County's largest cash crop, bringing in over 10 million dollars in annual revenues for the Counties farmers. That's a lot of 'maters' and a lot of potential BLT sandwiches so they do up the annual Festival in grand style.

Festival goers were out in force again this year for fun, food, exhibits, and of course, lots of tomatoes
Baskets full of red, yellow, and green Grainger County tomatoes were everywhere.
There were also lots of happy festival goers enjoying all the activities and great food.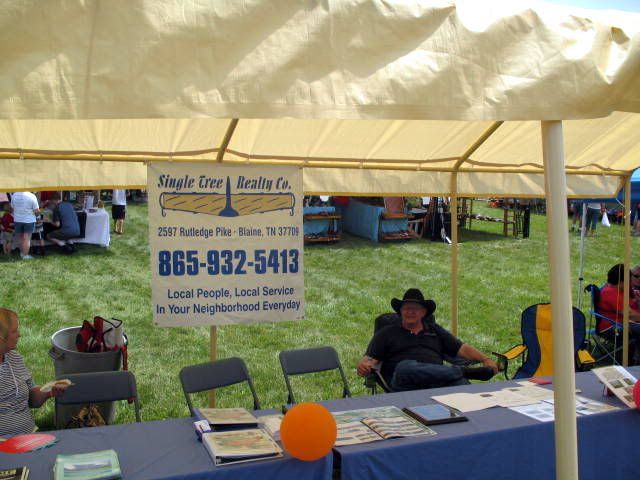 One of the local real estate firms had set up shop. This is the way we sell real estate in Tennessee
(well, some parts anyway).
Did I mention there were lots of tomatoes everywhere?
There were also watermelons, cantaloupe, and other farm fresh product but tomatoes were the star of the show.
All sizes and colors of tomato; red, green, and yellow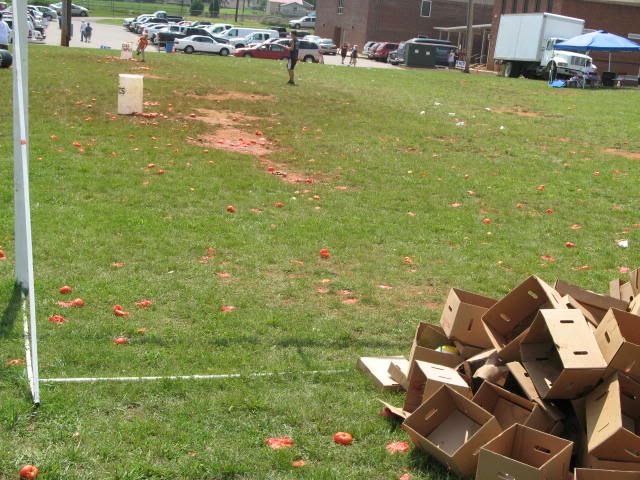 We got there too late to see the tomato wars but it looks like there was quite a battle here with a whole field full of people throwing overripe tomatoes at each other.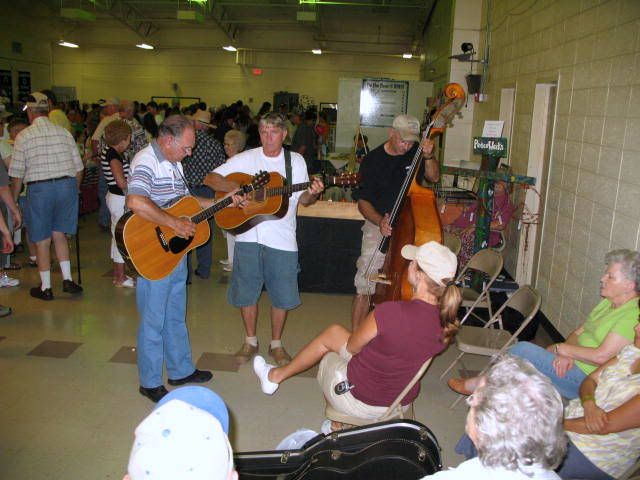 There was also some picking and grinning with a toe tapping audience of music lovers.
This delightful lady is a regular exhibitor. I have a photo of her from last year's festival working on the finished quilt displayed in the background. 
Sam Venable is a local humor columnist for Knoxville's daily newspaper and the author of several very entertaining and funny books. You just know any book titled "The Great Duck Misunderstanding" would have to be  very funny. It's advertised as: "The richest collection of great hunting and fishing humor, wry wit, verbal and cartoon slapstick from all sources, for all ages and tastes"
And there were lots more tomatoes, all sizes, shapes, colors, and prices.
There were several displays of civil war history from local Sons of Confederate Veterans 'camps' . These guys are full of great historical stories about the old South before, during, and after the Civil War.
There was also a great car show as part of the festival. This 1965 Ford Mustang Convertible looks just like the day it rolled off the assembly line in 1965.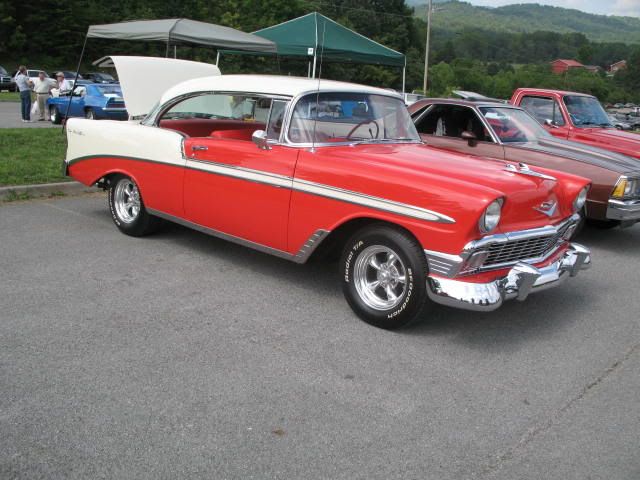 This is a 1956 Chevrolet Bel-Aire 2 door hardtop; an all time favorite classic.
Another great looking Ford Mustang Convertible; these 'pony cars' as they were called, were a very hot seller for Ford in their day.
And of course no trip to the Grainger County Tomato Festival would be complete without a souvenier t-shirt.
This is one of the civil war re-enactors in full uniform. Each member makes and supplies his own uniform and accessories.
The 16th annual Grainger County Tomato Festival goes on through tomorrow but don't worry if you missed it this year; it's an annual even held on the last weekend in July so make plans to attend the 2009 Tomato Festival. I feel sure it will be bigger and better than this year's.