Friday, August 18th is the start of early voting for Knox County.
My wife and I love the convenience early voting offers. No long lines normally, just walk in, register, vote, and you're outta there.
Just for fun I timed myself one time and I was in and out in less than 15 minutes and that's without rushing in any way.
For those of us that might need some practice or familiarization with the e-Slate voting machines Knox County now uses here's a link to their website that you can practice voting on.
The Knox County election commission has 10, count em, 10 early voting sites ready to go in varying locations all over the County.
Here's a list of locations:
Knox County Courthouse
Room 218 • 300 Main Street
Five Points Village Plaza Shopping Center
2364 Martin Luther King Jr. Avenue
New Harvest Park
4775 New Harvest Lane • near East Town
Halls Recreation Center
6933 Recreation Lane • off Crippen Road
235 W. Young High Pike
next to Wood Realtors
Downtown West Shopping Center
1645 Downtown West Boulevard • Suite 29
Farragut Town Hall
11408 Municipal Court Drive
The Silo (Northshore/Pellissippi Parkway area)
9409 S. Northshore Drive
UT Center – Main Floor
1502 W. Cumberland Avenue
Powell Library
330 W. Emory Road
Open daily except Sundays from 10:00 am until 6:00 pm, early voting is the best deal for people to cast their ballots in a long time.
I encourage everyone to get out and early vote from July 18 through August the 2nd and avoid the lines and hassles on election day; your vote counts just the same and it's so much easier and convenient.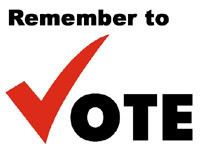 The Knox County Election Commission
Room 218 in the Courthouse, 300 Main Street Knoxville, TN 37902
865-215-2480
www.KnoxVotes.org