Knoxville area mortgage rates surged this past week to a nationwide average 6.42% for the most common 30 year fixed rate.
That was a sharp increase from the 6.32% the previous week and some see it as a signal the Federal Reserve has shifted it's focus from preventing a recession to controlling inflating inflation.
The 15 year mortgage also increased; from 5.93% last week to 6.02%.
These levels are the highest Knoxville and nationwide mortgages have been to since September 27th of 2007!
So what does that mean for Knoxville and Farragut Tennessee homebuyers?
According to the latest sales figures from the Knoxville Area Association of Realtors the median price paid for a 3 bedroom home in Knoxville was $184,700. If you buy the median priced home with FHA financing and pay the minimum 3% down that means you would be getting a loan for $179,100.
At 6.42% interest your monthly Principal & Interest only payment would be $1,122.63.
If rates continue their rise as lots of savvy financial folks predict they will we could be seeing 7+% interest rates this fall.
At 7% your monthly P & I only payment on your $179,100 loan would jump up to $1,191.56 which means you be paying another $68.93 a month or a whopping $24,813 over the life of your loan.
If you're one of the 'fence sitters' waiting for rates to come down, my suggestion to you is to run, don't walk, to your computer or phone me at 693-3232 or email Jim@JimLee.com and let's get started finding you a home today.
Tomorrow will almost certainly cost you more money not to mention the increase in the price of Knoxville and Farragut area homes.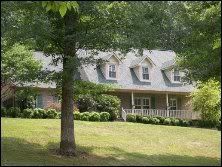 Knoxville Home Center.com is the best place to see all the Knoxville, Farragut, Maryville, Oak ridge, and Loudon County homes & condos for sale.