Ah, fishing. Those words conjure up childhood memories of sitting under a shade tree along the riverbank with a cane pole and a can of worms without a care in the world.
Better than just fishing is free fishing.
It's the Tennessee Wildlife Resources Agency's "Free Fishin Day", a sponsored event where anyone can wet a line and no fishing license is required. A huge pond at Concord Park will be stocked with catfish with bait and fishing poles if you need one, supplied by area sporting goods stores.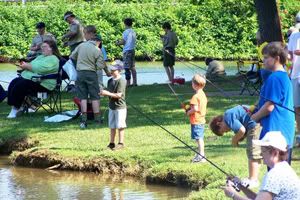 Free Fishin Day; fun for kids of all ages.