The greater Knoxville & Knox County area current has 5,900 acres of land dedicated to 213 public parks. That's abut 2% of the total land area of the County.
The City of Knoxville's Parks and Recreation Division offers a wide variety of activities for each member of the family to enjoy. One of the main goals for the Division is to improve recreational opportunities for all Knoxvillians and they do a fine job.
Knox County Park's Department also maintains a large portion of our area's excellent parks and recreational areas.
The new, Harvest Park & Farmer's Market located on the site of the old farmer's market in northeast Knoxville is the latest addition. Here Knoxvillians can buy locally grown produce directly from the farmers that produced it. Their products are fresher, better quality, and equal or cheaper than supermarket produce.
Knox County's new, Harvest Park & Farmer's Market
A recent survey reveals (to no surprise) that over 80% of Knoxville & Knox County residents want more parks. The survey also said that walking trails, followed by bicycle and nature areas are the most used park features.
Seven Islands Wildlife Refuge is a 360 acre wildlife sanctuary in east Knox County. Seven Islands has a rich diversity of wildlife with over 150 species of birds including a pair of bald eagles. The French Broad River which borders the park contains over 50 species of fish which is more varieties that are found on the whole European continent. In addition there are lots of great hiking and walking trails along the ridges and the waterfront and a boat launch ramp.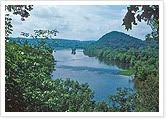 Seven Islands Wildlife Refuge in east Knox County
Our area's great parks system is one of the many attractions that make Knoxville & Knox County such a great place to live, work, play, and raise your family.
www.KnoxvilleHomeCenter.com is a great place to look for your next Knoxville area home.